How many people are there that know how to totally relax. That is to totally relax in mind and body, not by watching the TV or by going down to the pub, I mean to really relax to alleviate stress and emotional strains.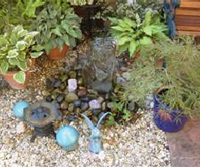 With the stresses of everyday life it is important that we learn this technique which will allow us to relax and let go of negative feelings and emotions.  To be able to relax totally in mind and body is not a short process, but with help it can be achieved in quite a short space of time.
The benefits will affect you on many levels. It will enable you to handle and react differently to stressful situations, to be more in control and to handle difficult situations more calmly.
When you first arrive the therapist will carry out a consultation with you in order to establish how long you have been experiencing your problems, to what levels your stresses have reached, and the times that you are most aware of them.
Relaxation therapy is carried out using visualisation. Firstly the therapist will guide you through a progressive relaxation process which will slowly relax down your mind and body. You will then be taken into a guided visualisation for whatever is relevant to your individual needs.
You will be asked to lie on a therapy couch, and there is no need to remove any clothing except your shoes. Relaxing and peaceful music will be played during the treatment and the therapist will let you know when the session has ended.
Life today can be very stressful and most of us will give time to others but not to ourselves. So take some time for yourself and contact June for an appointment.