This workshop introduces you to using crystal bowls. We cover how the bowls are made and the different types available. What is Sound Healing, Sound Healing with Crystal Bowls, different playing sticks and techniques, and the care with the volume when playing the bowls.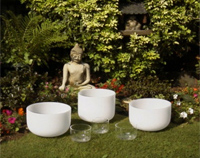 We will look at the difference between Himalayan Bowls and Crystal Bowls, cleansing and programming your bowls. We will find out how to download information from sacred sites into you bowls, how to make crystal water plus much more.
Please visit our Diary page for training dates.
Please refer to the Price List for the cost of this workshop.