CRYSTAL BOWL AND HIMALAYAN BOWL PRACTITIONER TRAINING
June and Rob Dickerson who are Accredited Tutors for the College of Sound Healing are pleased to offer a Crystal Bowl and Himalayan Bowl Practitioner Diploma Training Course ©.
The course consists of three modules taken over three weekends with a three month period between each weekend. Completion of the training will give the participants the knowledge and tools required to become a Crystal and Himalayan Bowl Practitioner. A full Course Manual is provided at part one.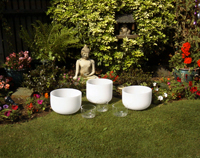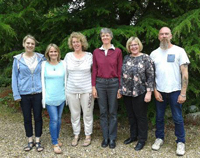 In order to be awarded a Practitioner Diploma a total of 18 case studies will need to be completed and there will be an assessment on giving a group sound bath which is covered on part three. As well as completing the core curriculum students will need to complete one additional Sound Healing Workshop. Details of these workshops can be found on the College of Sound Healing Workshops page.
At part two you will need to become a Student Member of the College of Sound Healing and you will need to have student insurance cover whilst doing your case studies. To complete the case studies you will require a minimum of 3 Crystal Bowls and 3 Himalayan Bowls.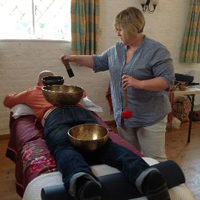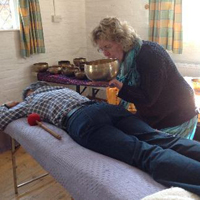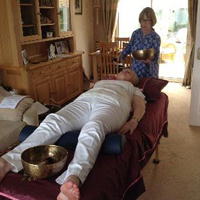 Once you have completed the Practitioner Training you can upgrade to Full Member of the College of Sound Healing and be added to the Practitioner List.
COURSE CURRICULUM
First Weekend - Crystal Bowls
What is Sound Healing, how does it work on the physical and energetic bodies
Understanding Harmonics and their role in Sound Healing
The Birth of a Crystal Bowl
Crystal Bowls and Sound
Types of Bowls and playing techniques
Basic Healing Session
The Role of Intention in Sound Healing
The Energy System and Crystal Bowls
The Human Body and the Metabolic Pathway
Areas of Body and Emotions governed by the Chakras
The Levels of the Auric Field
Protection
Where do Energy Blockages come from
Dowsing the Chakras and the Energy Field
Full Healing session
Cleansing your Crystal Bowls
Programming your Crystal Bowls and Structured Water
Second Weekend - Himalayan Bowls
The History of Himalayan Bowls
Modern day Bowls how are they made, where do they come from
Choosing your Bowl, playing techniques and wands available
Chakra Keywords
Full Healing Session
Advanced Techniques - Ululation, playing Bowls directly on the body, Bowl Massage technique, Toning with the Bowls and Triad Layout for Bowls
Cleansing your Himalayan Bowls
Using Complimentary Sound and Colour
Energy diagnosis using Tingshas
Using Himalayan Bowls and Tingshas to cleanse a space
Third Weekend - Graduation
Giving a Group Sound Healing Bath – Points to consider:
Finding a venue, costs, advertising, setting up the space.
Using different instruments, Shruti Box, Chimes, Bird Whistles, Bowls and Percussion etc.
Treating People with Life Limiting Conditions
Assessment
Code of Conduct
Setting up a Sound Healing Practice
Please visit our Events Diary for training dates
Please refer to the Price List for the cost of the Practitioner Training Course.
We are retailers of handmade Himalayan Bowls sourced directly from a Bowl making family in Kathmandu Nepal. The Bowls vary in size from 5 to 11 inches in diameter and a full range of Chakra notes are usually available. Please visit our Himalayan Bowl page to view the Bowls.