We have all been Usui Reiki Practitioners for many years and we started teaching Reiki after qualifying as Reiki Masters in 2003.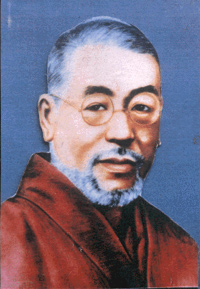 Dr Mikao Usui
We offer training to all levels of Usui Reiki, Reiki I Student, Reiki II Practitioner and Reiki III Master Level. Below are the details of each training course.
Reiki I Training Student
This training is carried out over one day, and the real purpose of Reiki I is for self healing. We look at the history of Reiki, what is Reiki, the chakras & energy field, protection, meditations, Reiki hand positions for self healing, different techniques, opening and protecting the chakras and living with Reiki. We advise you to treat yourself daily with Reiki for 21 days, and to drink plenty of water during this time. The purpose of this is that energy changes will occur after the training, and toxins may be released from your body.
We carry out four Reiki Attunements over the day, two in the morning and two in the afternoon. This is to attune your energy to the Reiki Energy.
This is a very full day of training and a manual is given at the end of the training, along with a certificate of completion. Lunch is also provided.
As with all of our training courses we provide continued support to our students after the course.
Reiki II Practitioner Training
After completing Reiki I you may wish to go on and train as a Reiki Practitioner which allows you to work with other people. Reiki II training is more in-depth, we go deeper into the energy system, dowsing the chakras, energy diagnosis, reiki symbols, recommendations for treating a client, healing session practice, guides, protection, aura scanning, invocations, meditation and various hand positions for treating a client and insurance for Reiki.
We will also talk about the responsibility of becoming a Reiki Practitioner, now that you are working with other people this is a most important aspect. There is one Reiki Attunement at this level and this will be carried out in the afternoon. Again lunch is provided and a full manual.
As with all of our training we provide continued support to our students after the course.
Reiki III Master Training
Unlike some tutors we do not separate our Master Training into Master Practitioner and Master Teacher.
One requirement we insist upon is that you will have had a lot of experience treating people after completing your Reiki II Training, so that you can share your experiences with your students.
Reiki III Master Training is carried out over 2 days and starts with a question. "Do you really want to be a Reiki Master" as being a Reiki Master brings a lot of responsibility. We look at spiritual intention and the role it plays in healing, healing changes, healing crisis, kotodama and its uses in Reiki, antahkarana-ancient healing symbols, micro cosmic orbit meditation, aura clearing, Dr Usui's original hand positions, creating a professional Reiki business, creating a crystal grid for distant healing and the attunement process. There is only one attunement for Reiki Master Level.
Lunch is provided on both days and a full Master manual is provided.
As with all of our training we provide continued support to our students after the course.
Please visit our Events Diary for training dates.
Please refer to the Price List for the cost of Reiki Training.