This is a very interactive day where we will be looking at using crystals, sound and colour as healing tools.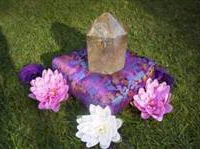 We will look at sound healing, what is it, how does it work, and the techniques that can be used. We will look at the use of different colours and how they can be incorporated into a sound healing session using for instance fabrics and lights. We will explore the various ways of incorporating crystals into a sound healing session and the use of affirmations.
There will be also be time for a sound meditation using our crystal bowls.
Please visit our Diary page for training dates.
Please refer to the Price List for the cost of this workshop.