This will be a very interactive day filled with hands on experience using the gongs.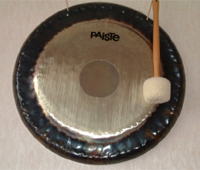 We will look at the history of the gong and its use in many different ancient cultures over the years. We will explore the different types of gongs available, and the mallets and floomies used to play them. We will look at the different techniques of playing the gong, and the connection that you build between yourself and the gong before and when playing it.
There will be time for a few mini group gong baths in which you can participate or just lie down and enjoy the sounds, and we will also do some healing in pairs using our Paiste symphonic and planetary gongs.
Please visit our Diary page for training dates.
Please refer to the Price List for the cost of this workshop.